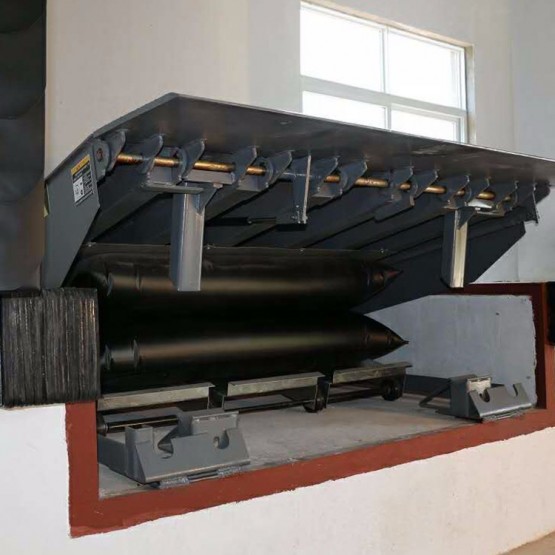 Air Powered 'Air Bag' Dock Leveler
Warehouse Industries continue seeking for less maintenance and durable Dock leveler for loading and unloading, Earlier year we launched our "Toshi Air Bag Dock Leveler" on working principle of Enhancing Dock solutions - maintenance-free, environmentally friendly,5 years warranty for motor and lifting systems.
Toshi Automation Solutions Air Bag Dock Leveler (TABDL Series) Is designed for both structural integrity in operation and safety features for the protection of dock personnel. Its function is to provide a safe and durable bridge between the building and the trailer using the Air Bag Lifting System. This bridge allows the safe transportation of Material Handling Devices (i.e Fork Truck, Pallet Jack, Hand Truck) and workers for the purpose of loading and unloading the trailer.
How Air Bag Dockleveler works?
Where hydraulic levelers use a hydraulic cylinder to position the leveler platform, air-powered levelers employ an airbag to raise and lower the leveler deck. The airbags in these levelers bear little resemblance to the automotive-style airbags most people think of when they read the term airbags. Leveler airbags are constructed from a woven polypropylene fiber membrane, coated with a durable PVC shell. These industrial strength air bladders take advantage of their size to move heavy loads with low-pressure air.
The Power of Air
The high-volume, low-pressure air lifting system is a environmentally friendly alternative to oil-powered hydraulics. The air bags can operate in extreme temperature conditions and withstand pressure without over-inflating. Their PVC-coated polyester fibers make the bags resistant to chemical or puncture damage.

Easy to Operate

The TABDL-Series air bag loading dock leveler comes standard with single push button control for sequenced deck and lip operation. When activated, the air bags inflate, raising the deck. When the button is released, the bags deflate, allowing the deck to lower smoothly onto the trailer bed.

Designed with Safety in mind

Toshi airbag dock leveler operates safely and efficiently under the toughest conditions; temperature extremes, heavy usage, and exposure to caustic substances. The deck flexes under load to allow a smooth cross-docking transition, minimizing the risk of worker injury and cargo or equipment damage. The fall-safe system provides additional protection by limiting platform free-fall