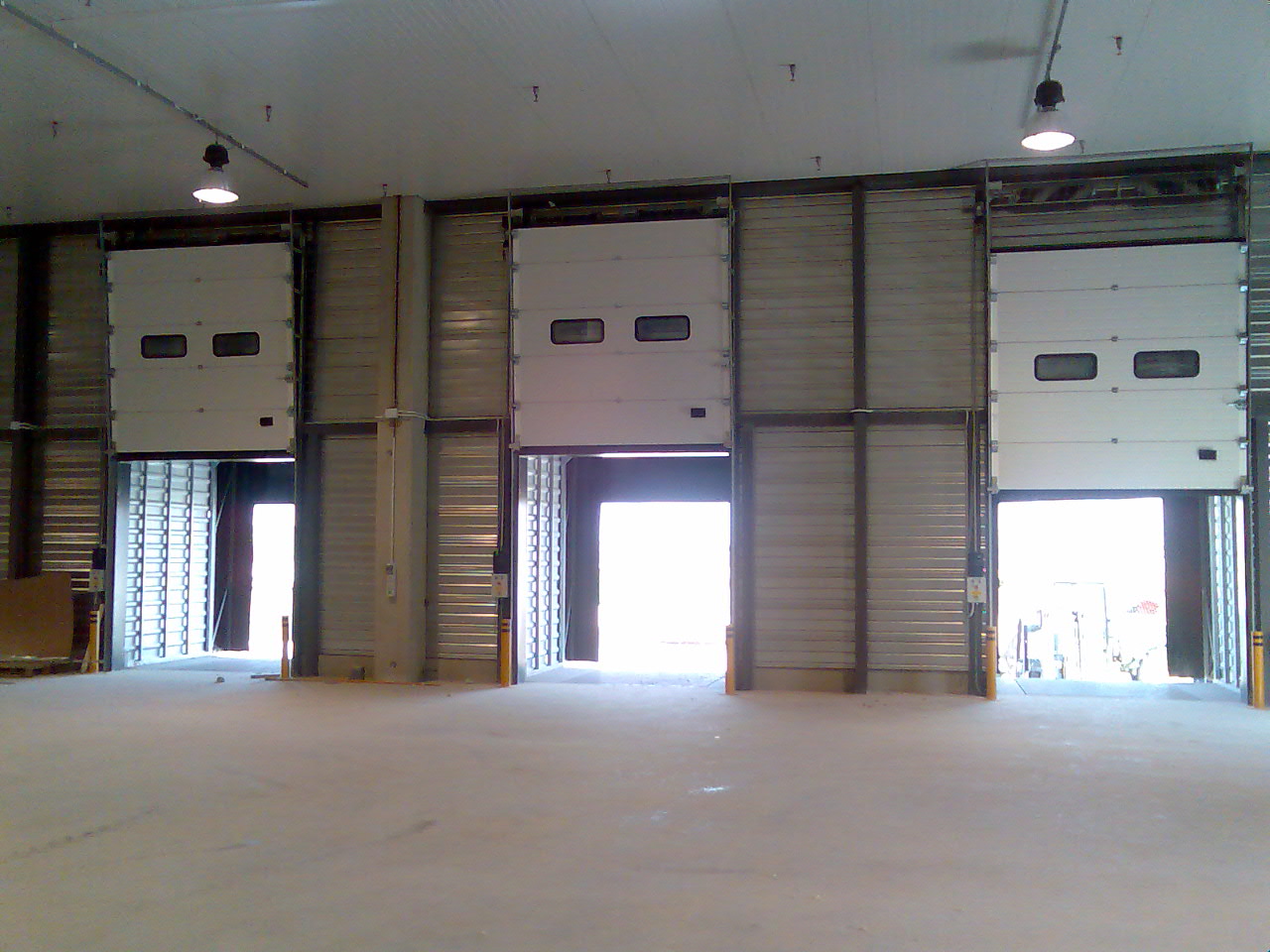 Industrial Sectional Doors or Industrial Door
Toshi Industrial sectional doors are designed for industrial buildings, warehouses, production workshops, transport terminals and a variety of industrial premises, where they have to meet stricter requirements if compared with garage sectional doors. Enhanced durability guaranteed by sturdy door construction makes them not only functional but also able to withstand daily operations in the toughest industrial environments. A perimeter sealing system provides premium thermal efficiency, maintaining the required temperature regime which is an important feature for almost any industrial facility. The door leaf is balanced with a torsion spring mechanism fitted with a Toshi QuickFix system which significantly reduces installation time.

Construction / Parts of Industrial Sectional Doors



1. Vertical track
2. Vertical angle
3. Cylindrical shaft
4. Spring safety device
5. Drum
6. U-shaped bracket
7. Counterbalancing mechanism (torsion spring)
8. Steel coupler
9. Internal support bracket
10. Top support with roller holder
11. Side support with roller holder
12. Strut
13. Cable break safety device
14. Sandwich panel
15. Hinge
16. Bottom profile and seal
17. Side seal
18. Top profile
19. Top seal
20. Perforated side cap
21. Doorstep handle
22. Spring bumper
23. Universal mounting bracket for horizontal tracks

Construction of Motor / Operators
1. Release cord
2. Chain
3. Gear motor
4. Frequency converter
5. Gear housing
6. Encoder
7. Manual operation chain
8. Control unit
All the necessary measurements are taken inside the premises with just a measuring tape and a water level. Every dimension should be taken at least in three points:

H — opening height (distance from the floor to the opening top);

B — opening width (distance between left and right side of the opening);

h — headroom (distance between opening top and ceiling) min 150 mm;

b1/ b2 — left/right side room (distance between a corresponding opening edge and obstacle) min 120 mm;

L — backroom.

When measuring Н and В the largest figure is taken for final dimension.

When measuring h, b1, b2 and L the smallest figure is taken for final dimension.
Application
In Loading /Unloading Area
External Apllication