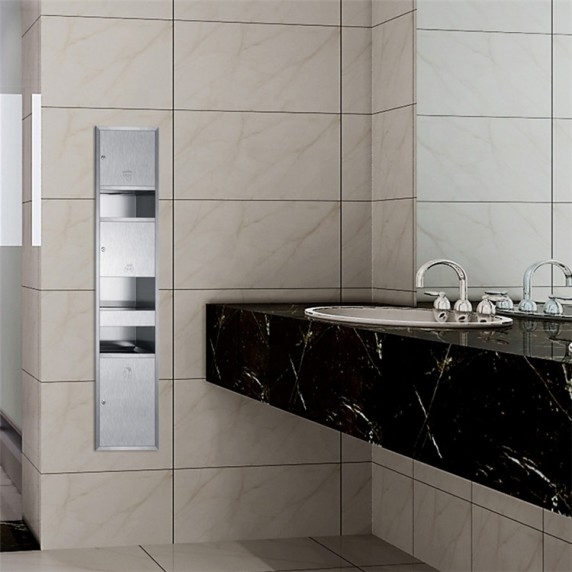 Recessed Panel collection at Toshi
The washroom recessed panel with smart technology and features is a perfect device for your restrooms. Installing them gives a proper utility and performance to the user. They are a full-height panel with in-built dispensers, waste receptacles, and hand dryers.
Toshi multifunction recess panel is applicable for multiple uses like energy efficient built-in Hand dryers, paper dispenser and waste container. Stainless steel auto hand dryer is operated by infrared sensors dry hand quickly water proof constructions. Toshi panels designed to maintain the maximum hygiene that make the most perfect choice.
Features of Recessed Panel :-
1) It is an easy-to-use and manages product that can be installed at any corner or wall of our washroom.

2) The recessed drywall access panel has some automatic features that make it a worth buying product.
3) It runs on electricity and the sensor of the dryer starts as soon as you put your hands under it and turns off when you take them away.

4) It helps to maintain hygiene in the surroundings and provides cleanliness in the atmosphere.

5) It is made of a durable quality material having a maximum waste container capacity that is eligible for a whole day.

6) The built-in hand-dryers, dispensers, and waste containers save space in your restroom and give you adequate use. It is a touch-free device and its stainless-steel properties save it from rust and corrosion.