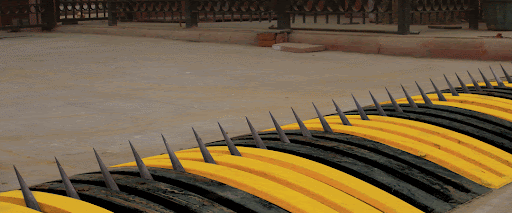 Why should I choose Tyre Killers?
Toshi tyre killers are designed to destroy the tyres of vehicles trying to forcibly enter into a secured area.

Tyre killers are a simple but highly effective solution to control one way traffic, ideally suited for approach highly secured entrances such as banks, military installations, airports, docks, cash collection, depots, government offices etc.

Toshi tyre killer teeth retract below ground level when a vehicle is approaching and access control unit providing safe access or authorised vehicles.

If a vehicle attempts to break through, its tyres will be destroyed. All vehicles can drive over the lowered tyre killer.

When the vehicle has passed, the teeth return to the active position, ensuring total protection from unauthorised vehicle intrusion from the wrong side.

Our range of tyre killers are manually controlled and therefore as easy installed and deinstalled as speed bumps, simply screw them on the concrete/tarmac floor when needed.

The teeth have a spring return system, plus a separate sprung control system allowing the angle of the teeth to move to ensure that the optimal angle of attack is available for the type of vehicles being controlled. For example the tyres of large trucks require a different angle of penetration to that of cars.

The units are finished as powder coated yellow with the 'teeth' and rotating mechanism galvanised to ensure long life.

They can be supplied with a sloping 'end' unit pair, each 250mm long, which is attached as an alternative to the standard square end. There are no tyre killer spikes in the 'end' unit.

Warning signs can be supplied if required and we throw in all fixings for free.

Don't hesitate to contact us if you need more information on this incredible product.

We hold large stock for a next working day delivery so just contact us or order directly in our website shop.